Gunman/victim identified in deadly SWAT stand-off
Posted:
Updated: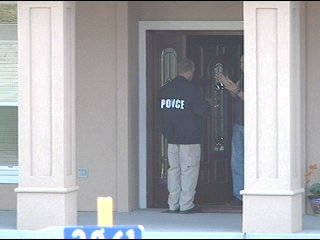 SELAH, Wash- Some Selah residents got a rude awakening last night, gunfire shattered the peace of their normally quiet neighborhood.
"It's pretty uh devastating when you live in a neighborhood and hear something like that going on or see something like that going on, it's not a good feeling", says Don Christianson who lives near the scene,
About 10 YSO deputies and Selah Police officers were called out to the 3000 block of Spyers Road for reports of a man trying to shoot people. They were met with gunfire as soon as they drove up.
"They withdrew to a safe location and requested the Yakima City SWAT Team. Negotiations were begun with the individual that lasted a period of time that became unfruitful", says Lt. Terry Liebrecht of the Washington State Patrol.
Law enforcement says he then got into a car, armed with a shot gun, drive down the driveway ran into a SWAT barricade and then moved into the passenger seat. He then got out holding the shotgun, that's when officers fired the fatal shot.
The suspect is 18-year-old Ross Nager who lived at the home. Four of his family members and friends were in the house, but they got away safely.
Investigators aren't commenting on whether he was threatening those people or what may have led up to his reckless behavior. But they do say he has a criminal history for an assault-related crime.
The two YPD SWAT officers are on paid administrative leave while the state patrol investigates the shooting.
This is the 4th officer involved shooting in Yakima County this year, and the third where the suspect died.