Cool Town: Roslyn
Posted:
Updated: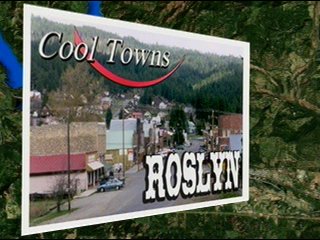 ROSLYN, Wash. -- KNDO continues its Cool Town stories featuring the town of Roslyn.
Located about 65 miles north of Yakima, near Interstate 90, Roslyn is a small town with a population fewer than 1,000 people.
The town was founded in 1886 as a coal mining community. The extensive coal fields helped fuel Northern Pacific Railroad trains through the Cascade Mountains.
Coal mining attracted large numbers of immigrants to Roslyn.
In 1963, the economy forced the largest mine company in the area to close. According to the Roslyn Museum, four-fifths of the coal deposits still remain unmined.
"Mining was very dangerous and there was a lot of deaths," explains Jenny Aurit, VP of the Roslyn Downtown Association. "It was a really hard life cause this is snow country. So you have six months of winter."
In 1892, a mine explosion killed 45 miners. Then in 1909, another explosion resulted in the deaths of 10 miners. City Hall became a morgue because so many miners died.
Today, you'll find the legacy left by Roslyn's early immigrants, including the miners, in Roslyn's Historic Cemeteries.
"We're very proud of that history," says Richard Watts, chairman for the Roslyn Cemetery Commission. "You can't expect to see large monuments, but you can find hard working people and a lot of culture."
Watts says Roslyn has one of the largest groups of ethnic and lodge cemeteries west of the Mississippi, with a total of 26 cemeteries in the area. He says there are more than 5,000 people buried at the cemeteries.
"The cemeteries in Roslyn are a must see. They're a jewel in the crown of this state. They're beautiful," Watts said.
The many unique store fronts welcome visitors to the shops and eateries, including The Brick tavern.
"People come here and just develop memories and because it's such a unique, cool building," says Tiffanie Goebel, manager of The Brick. "They just leave here with great experiences."
Patrons inside The Brick can walk downstairs and tour their three jail cells.
"In 1977, a movie was filmed down there called 'The Runner Stumbles' starring Dick Van Dyke," describes Goebel. "They liked that one cell and the look of the basement, so they built two more for the scene."
The Roslyn Cafe building is recognized by fans, from all across the country, who followed the television series "Northern Exposure" that aired during the 1990's. The cafe is just one of many places in downtown Roslyn used during filming of the show.
Surrounded by thick forests, visitors and residents have many outdoor recreational activities to choose from, including hiking and camping.
For more information about Roslyn, visit the Roslyn Downtown Association website at: http://www.roslyndowntown.com/.