Hanford High Has 15 Student-Athletes Sign to Play Across the Country
Posted:
Updated: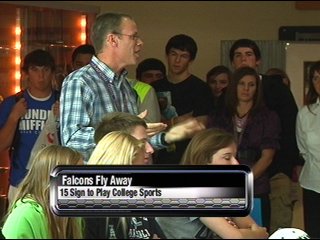 HANFORD, Wash. -- The Hanford Baseball Team is making it's 4th straight state appearance in baseball Saturday at 1pm. They take on Lake Washington at Richland High.
But Thursday was a big day for the Falcons. 15 student-athletes signed to go to schools across the country, from the University of Hawaii to schools in Texas, South Carolina, and Massachussetts. Falcons will take their game all over the country next year.
"I love how we did it together because they are all my friends," said Veronica Bradley, who heads to UC San Diego for track. "I'm really excited for all of them too."
"It's really awesome to be a part of something so big," said Kristen Bennett, who will swim at the University of Hawaii next year.
Here is a list of Hanford's Signees:
1. Kaisha Johnson(Soccer) – New Mexico Highlands University
2. Scott Kim (Golf) – Oregon State
3. Aaron Neary (Football) – Eastern Washington University
4. Kurt Rueter (Basketball) – Aiken State
5. Riley Shintaffer (Baseball) – Centralia Community College
6. Chris Synoground (Baseball) –Whitworth University
7. Dan Schiebe (Baseball) – Whitworth University
8. Erin Hegarty (Cross Country/track) – Baylor University
9. Austin Steele (Baseball) - Clark Community College
10. Garrison Becker (Baseball) - Centralia Community College
11. Veronica Bradley (track) – UC San Diego
12. Cameron Wagar (Football/Track) – MIT
13. Amanda Bogen (Cheer) – Morehead State University
14. Sydney Dale (Dance) – University of Oregon
15. Kristen Bennett (Swim) – U. of Hawaii