A new biofuel project could cut your gas bill
Posted:
Updated: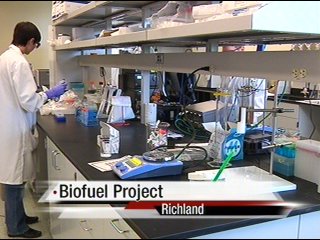 RICHLAND, Wash.—WSU Tri-Cities students and PNNL employees are working to reduce your gas bill. KNDU learned more about a new cutting edge biofuel project that's right here in the Tri-Cities. The technology is called the BioChemCat project.
WSU Tri-Cities students are taking agricultural waste and transforming it into fuel. They use winery waste, grass, straw, manure, wood, almost anything.
"The BioChemCat project is a novel way of using forest residues and agricultural wastes to produce either specialty chemicals or liquid transportation fuels," says Dr. Keith Thomsen, WSU Tri-Cities Assistant Director.
The project is being tested on a small scale in a WSU Tri-Cities laboratory. It is a two-step process.
"We actually couple a biochemical front end conversion process to a thermal chemical process, that is heat and pressure, to transform the biological projects into either fuels or chemicals," says Thomsen.
Students say this is cutting edge work. The new technology is expected to produce 70 gallons of jet fuel for every ton of dry waste, which is more than any other biofuel project. Plus it won't hurt the environment.
The $1.6-million project is mostly funded by a Department of Energy grant and the rest is covered by matching funds. By fall they hope the testing period will be complete, and then the process will run for another year.