JA World holds open house in Yakima
Posted:
Updated: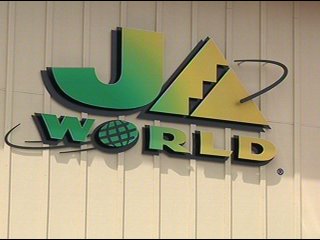 YAKIMA, Wash. -- A financial world was brought to life Monday for several middle school students.
Students from the Lower Valley got some hands-on fiscal learning in Terrace Heights, in a simulated town complete with banks, a car dealership, and a McDonald's.
It was all part of an open house for Junior Achievement's new JA World, located along University Parkway. Kids will learn how to write checks, manage a business and finance a home.
"If you don't prepare yourself and understand math, you'll never be able to balance your check book," explains David Moore, President and CEO of JA World. "So you're getting a real experiential learning component here, as the kids go through the program."
Launched in 2001, the $12,750,000 JA World Initiative helps kids throughout Washington state have access to interactive financial literacy at the JA World learning centers.
"We're the only small community in which JA has built a facility like this, throughout the United States," says Paul Larson, Co-Chair of JA World Yakima. "They went to the Legislature and they were able to get a bill through the House to provide us with about $3.5 million in financing to build this facility."
Larson went on to explain that the programs aren't just targeting the young children, but also their parents. "We're going to have the parents come in the evenings with their students and run a little bit of the same programs the students did in the JA finance portion."
JA BizTown is an eight week education program for elementary grade students. Students will take what they learn in the classroom of writing checks, keeping a checkbook register, applying for jobs and working in groups, and put into action during a full day visit at JA BizTown.
JA Finance Park is a six-week simulation for 8th grade students, enabling them to build foundations for making personal financial decisions. Similar to JA BizTown, JA Finance Park is an actual center built in a business park setting, with up to 19 local businesses represented. During their business day, students will look at the many different financial decisions to be made, consider their options and create a personal budget.
Leaders of JA World Yakima say the programs will impact up to 12,500 young people throughout Central Washington, each year when centers are running at full capacity.
There is currently a second JA World learning center in Washington, located in Auburn. The facility has been operating for about six years.
JA World is open to elementary and middle school students throughout Central Washington.
Projected start date for pilot programs will be for Spring 2011.
For more information about JA World - Yakima, visit their website at: http://www.jawashington.org/world/yakima.php.