Chip sealing project begins
Posted:
Updated: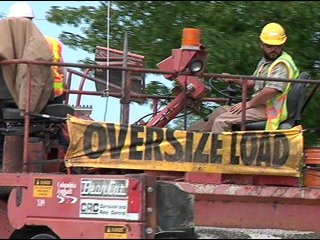 KENNEWICK Wash. -- Chip sealing is nothing new, but the project which started today is the largest of it's kind since Kennewick used this process three years ago. It's also, the most expensive costing $1.2 million.
Hot asphalt is laid, then small chips of rock follow, and finally it's packed down by a roller into the hot asphalt. This is chip sealing. It's another method to pave the streets. And according to the city, much cheaper than using a traditional hot mix asphalt.
"In the early 2000's, the price increased dramatically, doubled and even tripled and chip seal also went up. But, not nearly as much, " explains Alicia Piper of the city of Kennewick.
According to the city, the process lasts seven years. Traditional hot mix asphalt lasts longer at 15, but, chip sealing will save Kennewick $8.3 million.
The project covers more than 22 miles of city streets. Work started this morning along Gum Street and 10th Avenue and it'll end along Steptoe Street.
While chip sealing saves money, some people are concerned.
"The tar and the rocks coming up and hitting my windshield and also chipping the paint on the front of my car and also the tar getting stuck on the bottom of my car, I think would be a concern for me," says Gwen Dentinger.
She's not alone, her friend Brooke Burnett has a motorcycle and doesn't like the small rocks,"for me, loose gravel is always a big concern for motorcycle riders, and even if it's been chip sealed, it does have a tendency to kind of pull or swerve a little bit when you're on a motorcycle, that's a huge danger."
And bicyclists like Isidro Mendoza don't like it either,"run over this material and it would cause me to pop a tire or cause me to swerve in a lane of a driver or oncoming traffic."
Despite the concern, the city says don't worry. "They do come and sweep the street the next day to help prevent a lot of that loose rock," explains Piper
The project is expected to go until June 9th. If your vehicle is damaged by rocks contact the city immediately by going to their website at go2kennwick.com