Kennewick man worries about family and friends in Joplin MO
Posted:
Updated: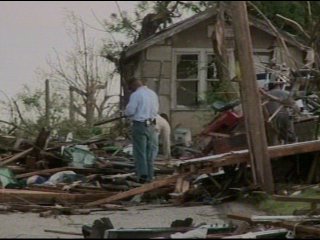 KENNEWICK, Wash. -- Violent storms rumbled through the central U.S. on Wednesday, spawning tornadoes that turned homes into splintered wreckage, killing at least 14 people over two days and hampering rescue efforts in a city slammed by a massive twister days earlier.
The new cluster of storms, which followed a system that spawned the massive twister that killed more than 120 people in Joplin, Missouri on Sunday, injuring more than 750 people.
Rob Martin, a Kennewick resident grew up in Joplin and has been watching the devastation all week. His sister just closed on her home in Joplin the day it was blown away.
"They went down to the basement, and the tornado hit the house. My sister said, it lifted the house up and just blew away and that was it. She said everything they had in there was gone," says Martin. Luckily his sister did have homeowners insurance but not everyone was as lucky.
Martin says it's hard for him to see the images on TV. "It's just really hard to see that the town you were raised in is gone. It just boggles my mind, what really hurt me the most was my father's church that he had for so many years," says Martin.

Wednesday, a twister also touched down in the city of Sedalia, 75 miles east of Kansas City, damaging several stores and causing minor injuries. Martin's aunts live there. "Her roof got completely torn off in the tornado," says Martin.
But at least everyone is alive. Martin says people who are interested in helping should contact their Red Cross. That number (509) 783-6195 is or click here.