YVCC grad bounces back after being laid off
Posted:
Updated: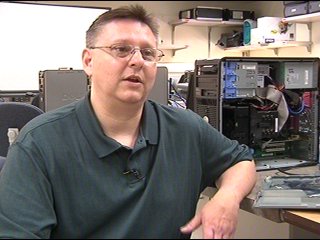 YAKIMA, Wash. -- A 44-year-old Yakima man graduates college after being laid off more than two years ago from his television job.
In 2008, Larry Boss, married and a father of two children, was told he was being let go from KAPP-TV. He understood the decision of being laid off was due to the economy.
"When I was at the TV station, I did a lot of video editing on computers, but I never did any computer repair work at the TV station," Boss explained.
After working for more than 17 years at KAPP, Boss was unsure what his next move would be, asking, "What am I going to do? I know I could collect unemployment for a while, but I have to move, you know. Even if I move, would I be able to keep a job at another TV station for more than six months? But they might lay off."
Needing a job to support his family, Boss decided to go back to school and update his skills. He enrolled himself through the Worker Retraining Program offered at Yakima Valley Community College.
In addition to YVCC's program, Boss said he was able to pay for most of his tuition, with the help of WorkSource's Dislocated Worker Program.
Instructors, who worked closely with Boss, said they were impressed by his dedication.
"He would also spend time outside of classes and in addition, he would form study groups with his peers. And takes every advantage of all the resources here on campus, from tutoring and in the end becoming a tutor himself," said Stefan Apperson, who chairs YVCC's Information Technology Program.
"What am I doing? I'm going to be at a college where there's young people," explains Boss about being an older, college student. "It wasn't like that. It's kind of like being at work. You treat it like a job, you do what you're supposed to do."
Boss graduated in March at the top of his class, earning a degree as an IT Support Specialist.
"As far as, you know, actual college work, I never did that before in my life, and I did it. And, I'm happy that I did. And, I wouldn't trade it for anything," Boss said.
Boss found out he was offered a full-time job at a downtown computer store in Yakima, Tuesday morning.
YVCC will hold its 82nd Commencement Ceremony on June 9 at 7:00 p.m. on Parker Field, at the Yakima campus. This year's commencement speaker will be Dr. Gary K. Ostrander, YVCC Alum and Vice Chancellor of Research and Graduate Education at the University of Hawaii at Manoa.
YVCC will award 946 degrees and certificates this year to 836 students ranging in age from 18 to 74.