Inspirational students about to graduate
Posted:
Updated: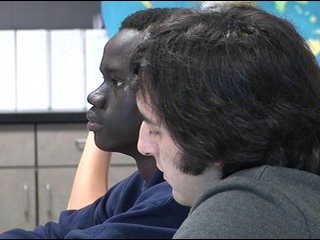 KENNEWICK, Wash. -- It's not every day you meet students like James Thoul and Raul Ramos. Both have overcome some major obstacles, and both will graduate this Saturday.
Everyone inside Southridge High's 5th period psychology class has a story to tell. but not many have stories that sound like this, "my family moved here from the Sudan due to war and poverty over there," says James Thoul, who was born in the ravaged country.
Raul Ramos who was born in California, but raised here in the Tri-Cities. He also overcome hard times, "seeing my mom, like how she struggled because she didn't finish elementary school 'cause she lived in Mexico and she was born there and her parents kept her from school and she had to work at the shop that they had."
With backgrounds like these, not everyone overcomes obstacles of their past. James' family was given a lot in their journey to this country. As a result, he tries to give back at school.
"I like to help out and have fun with everybody and the activities that we share," says Thoul. The work he's doing in school has inspired many of his classmates, "James is a really great guy. He's really creative always looking to help people. He's someone you can count on if you even need help," says senior Zak Reams.
Help is a word Raul Ramos has heard often from his mother. He works 20 to 30 hours a week at his part time job to help with bills and juggles that with taking the hardest courses in school, "I try to work as much as I can and then usually if my mom doesn't like to tell us that she needs help paying the bills," explains Ramos.
Brian Klos, one of his teachers was blown away from Ramos' dedication, "oh my gosh, you're doing all of this for your family and putting in all these hours and still finding time to do all this, like whew."
Both of these seniors will be first generation college students. James will attend W.SU in Pullman this July, and Raul is heading to the University of Washington this fall.