Electives help graduating seniors decide career paths
Posted:
Updated: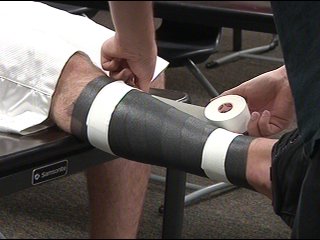 RICHLAND, Wash.-- Some graduating seniors at Hanford High School say one unique elective helped them decide what to pursue in college.
The sound of ripping tape fills the room in Sonia Cross's classroom. On the last day of school, the students are reviewing their taping skills they learned in the Sports Medicine II class. However, this won't be the last time they use those skills.
"I will be attending the University of Washington next year and I plan to receive a Masters in prosthetics and orthotics," explains Amanda Gagnon, a senior who graduates Friday.
Another graduating senior, Ruben Solis, says, "I plan to major in kinesiology and get a minor in exercise and wellness."
And senior Robert Richardson says, "I'm going to Carroll [College] and I'm going to go into the pre-med program and hopefully become an orthopedic surgeon."
Hanford High offers 2 years of sports medicine where students learn about anatomy: bones, muscles, tendons, and injuries: how to assess them and how to treat them.
Their teacher, Sonia Cross, says the learning is very hands on. She explains, "They actually get to push the books away, sit on the tables, start taping, learning about the body. They actually get to practice with their tape on, see how it works for them as well as how it's going to work for other people."
The sports med students are required to have a certain number of hours outside of the classroom. Many work with the school's sports teams. Gagnon says, "I personally shadowed for most of the football games this year so I got to tape most of the players before the game."
The students also got a chance to shadow different jobs. Cross says, for example, students did "Work with paramedics, work with firefighters, work with athletic trainers. We've gone on field trips to see different cadavers."
These seniors all agree that this class will give them a leg up in college. Gagnon says, "Oh, I definitely think it will help me because I'm going to have to take all these anatomy classes first off and I already know what it is."
Hanford High seniors graduate Friday.