Ams Goalie Invited to Hockey Canada Goaltending Camp
Posted:
Updated: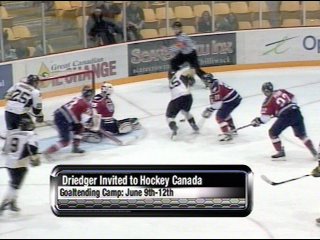 KENNEWICK, WA – In conjunction with Hockey Canada, Tri-City Americans' General Manager/Governor Bob Tory announced today that goaltender Chris Driedger will attend Hockey Canada's annual Program of Excellence Goaltending Camp, to be held June 9-12 in Calgary, Alberta.
Driedger will join 15 other goaltenders, including three from the Western Hockey League, at the four-day long camp. The camp will include both on-ice and off-ice sessions. The instructors will provide both the participants and Hockey Canada with detailed reports at the conclusion of the camp. All of the on-ice sessions will be held at Norma Bush Arena in Calgary, AB. Driedger was the only WHL goaltender selected to take part in the Summer U18 camp. Meanwhile, fellow U.S. Division goaltenders, Calvin Pickard (Seattle) and Kent Simpson (Everett) will join Medicine Hat's Tyler Bunz at the U20 camp.
Driedger had a solid rookie season with Tri-City, appearing in 22 games while amassing a 6-6-0-1 record. The 16-year-old netminder from Winnipeg, Manitoba finished his first WHL season with a 3.50 goals against average and a 0.881 save percentage. Driedger also got a taste of international competition this season, serving as the starting goaltender for Team West at the 2011 World U17 Hockey Challenge in Winnipeg. In four tournament games, Driedger compiled a 3.26 goals against average and a 0.880 save percentage. As a 15-year-old, Driedger also led Team Manitoba to the silver medal at the 2009 Western Canada U16 Challenge Cup.
All 16 goaltenders were selected by Hockey Canada based on evaluations done by Head Scout Kevin Prendergast during the 2010-11 season and in consultation with coaches, general managers and team officials throughout the Canadian Hockey League.
To read the full release from Hockey Canada, visit www.HockeyCanada.ca