Wa-Hi Aces to Remember
Posted:
Updated: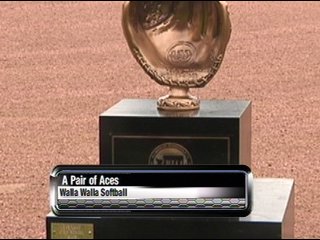 Walla Walla, WA---
Last Saturday, Walla Walla softball did something the program has never done, win a state title. In the process, the Blue Devils became the first Big 9 4A fast pitch team to do so. History made possible behind a pair of aces on the mound. Wa-Hi's Hope Klicker and Alston Ambler each pitched two complete game shutouts in the state tournament, ending with a 1-0 victory over Marysville Pilchuck in the title game.
Ambler said, "We've all been dreaming about it and its always state... We've got to do this. We've got to do this... Cause this is our chance like... We can do this. We've always talked to each about that and its just finally all ours."
Head coach Jerry Humphrey's said, "Think you got to attribute their success to the hard work that they've put in, and we're just appreciative that we're able to kind share with them on our field."
Klicker added, "Getting to the state tournament and pitching there was totally relaxing to me, because no one knows Alyson and I. They don't know our pitches.. They don't know anything."
The duo's pitching dominance came as no surprise. The past two seasons both had ERAs just above or under one. Ambler as a junior this season went 15-0 with a .56 ERA, drawing attention from Division 1 schools.
Ambler said, "I don't actually know how many I've never counted, but there's quite a few."
The senior ace in Klicker is already bound for a D-1 school in the College of Charleston this fall, where she'll play first base. Before that, both aces will compete for a national title on 18 and under softball summer teams. Klicker for the Explosion here in Eastern Washington, and Ambler for a team in Orange County, California.
Klicker said, "I've thought about it. How can you not after you win a state title. Definitely be sweet."
Ambler added, "Reaching for the sky kind of on that one."
Whether or not these two win a national title this summer, matters not. Both can treasure the memory of leaving their mark at Wa-Hi. Leading the program to its first state title, while ending the year 27-1, while ranked 39th in the nation.