PNNL's Dr. Bridges named one of world's top woman chemist
Posted:
Updated: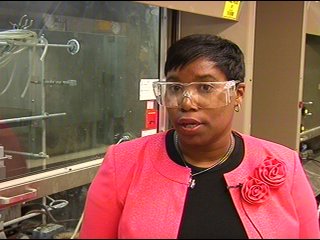 RICHLAND, Wash. - Novella Bridges, a chemist who has helped develop processes to reduce diesel emissions in vehicles and create therapeutic agents for cancer treatments, has been named one of 23 Distinguished Women in Chemistry/Chemical Engineering.
"I was a little humbled to even be nominated, and even more shocked or surprised to be honored for such a prestigious award," says Dr. Bridges.
The awards are being given as part of the United Nation's International Year of Chemistry, which marks the 100th anniversary of the Nobel Prize in chemistry awarded to Marie Sklodowska Curie in 1911. Bridges, who has worked at the Department of Energy's Pacific Northwest National Laboratory since 2000, and the other international recipients will be honored at a ceremony during the International Union of Pure and Applied Chemistry's World Chemistry Congress in San Juan, Puerto Rico, August second.
Bridges is a project manager in PNNL's Operational Planning and Logistical group where she currently serves as the training manager for the Radiation Portal Monitoring Project. RPMP is a federal program to deploy radiation detection systems at all U.S. Customs and Border Protection ports of entry.
She says her love for science started in high school when her teacher pushed her to excel. " He made a special advanced chemistry course just for me, so that I could just play in the lab, so I could learn about the science. He told me at the end that year, Novella I want you to understand that the world was not going to be ready for you, they're not going to expect you to be good at science."
But Novella Bridges beat the odds. She earned a bachelor's degree in chemistry from Jackson State University in Jackson, Mississippi, and a doctorate in inorganic chemistry from Louisiana State University in Baton Rouge.
Now she volunteers and helps other kids achieve their goals. "I'm reaching back getting those kids, and those students that are minorities that don't have role models and bringing them along with me because I'm being allowed to enter those doors," says Bridges.
While at PNNL, Bridges has worked on projects designed to reduce diesel emissions in vehicles, locomotives and light-weight trucks; improve production of hydrogen for fuel cells and other advanced energy systems; and research that has led to the development of radio-labeled composites as therapeutic agents for cancer treatments.