Kennewick terminally ill dad gets new lungs on his birthday
Posted:
Updated: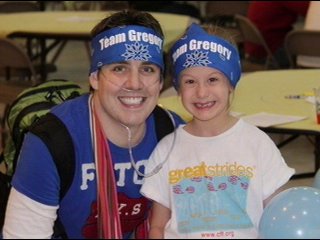 Kennewick, WA - Most young fathers might wish for the latest tech or BBQ gadget for their birthday. Matt Gregory's only wish; lungs.
Matt has Cystic Fibrosis, a genetic, progressively worsening, terminal disease that coats his lungs and digestive tract with thick mucus. The mucus harbors germs that cause infections and has caused a life-threatening decline in his ability to breath.

His wife of ten years, Amanda Gregory has been with him from the beginning. She says in the last two years, things became worse. "Every month it seems to be getting that much worse he gets a little more tired. The stares become that much more of an issue for him. Oxygen went from four liters to ten liters."

In December 2009 Matt was added to the Organ Transplantation Network List for a double lung transplant. Patients are put on the transplant list when their health has deteriorated so far that they would only live 12-24 months without the transplant. Matt has now been on the list for 18 months.

Since being on the Transplant List Matt has gotten one call from the University of Washington Medical Center in February of last year. The Gregory family was called back within minutes telling them the lungs were not the ideal size for Matt and they would be given to another man. Rather than let it get them down, the Gregory's refer to it as their practice run. Matt says "Someone else's daddy got to go home, next time it will be my turn."
That next time happened this past weekend. On Wednesday night the call went out again. The Gregory's hurried to Seattle where Matt underwent tests. All was well and the transplant was scheduled for Thursday. Yet 30 minutes after entering the operating room the news came that the donor had crashed. This means that the lungs were no longer suitable for transplant and the surgery was canceled. Again the disappointment would be devastating, yet Matt's sprits were high. The message to friends was that this was a "Blessing in disguise. God has a plan!"
Saturday morning a 3rd call would come and the Gregory's would head to Seattle in hopes of a transplant, just 3 days after the last attempt. This time everything would go as planned. As Matt spends his 29th birthday in a hospital bed, he is grateful. He got his birthday wish.
It came from a man he had never met in the form of healthy lungs; bringing with it the opportunity for a new life that wasn't possible before.As with any transplant, bleeding, infection and rejection are the biggest risks. This is complicated by the limited amount of healthy donor lungs available. In 2009, there were approximately 900 lung transplants in the US, of which 207 were performed in Cystic Fibrosis patients.
Amanda says all Matt really wanted was to be able to play with their two year old daughter Annika.

According to the US Registry of Transplant Recipients, 83% of lung transplant recipients survive the first year. But it is most common for the transplanted organ to be rejected between the 3rd and 5th year. Three years after a lung transplant 53% of patents survived and at 5 years only 28%. However, these realities are brighter than what Matt faces without the transplant.
The Gregory family will be moving to Seattle for three months so doctors can monitor Matt's progress. There is a fund set up to help the family financially. It is at HAPO Credit Union.