Yakima's economic recovery lags behind
Posted:
Updated: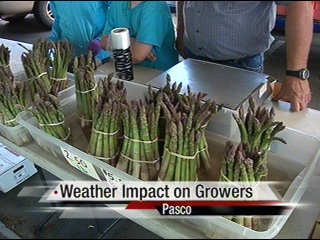 YAKIMA, Wash- Central Washington economists are getting ready to present their predictions for the future of the economy. The 2011 Yakima and Central Washington Economic Forum is July 8. The forum will focus on predictions for the local and state economies.
Don Meseck, the regional labor economist for Central Washington says that 2009 was a hard year economically, but Washington as a whole is bouncing back. However Yakima's economic recovery is moving slower than that of the rest of the state. He says Yakima's agriculture based economy is the reason. When the weather doesn't cooperate as it hasn't this spring that leaves many people out of work. But Meseck says that's to be expected.
"For a metropolitan statistical area, it's a volatile area in terms of the labor market, and that can be good or bad ".
But agriculture has saved Yakima from some of the struggles other counties' struggles. In the last three years Washington State has seen as much as a 4 and a half percent decline in manufacturing jobs. However Yakima's loss has been about half of that. Meseck points to the fact that about half of Yakima's manufacturing is food processing.
For those who'd like to know more about the state and local economic situations, economist from across the state will be speaking at the economic symposium on July. The event is from 8:30-am-12pm at YVCC and is free and open to the public. http://www.workforceexplorer.com/article.asp?ARTICLEID=11175