Benton County getting its own Gang Task Force
Posted:
Updated: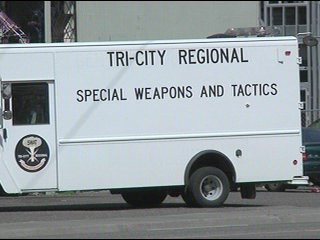 PROSSER, Wash. --Monday, Benton County Commissioners unanimously approved the sheriff's request to start a gang task force for Benton County.
It will cost approximately $765,000 which includes salaries for four new employees and operating costs for two years.

Commissioner Shon Small worked in law enforcement for the last 20 years. He says the residents of Benton County approached him to tackle the growing gang problem.
Small says several individual cities like Kennewick and Richland already have their own gang prevention units within the police departments, but getting one for the county would be more efficient. He says different officers meet from the departments once a month to share information about gangs, but a task dedicated to the problem would put a dent in the problem.
"Yakima County is just right across the street and there was over 20 gang related homicides in 2010. The homicide we had in Prosser, I mean it's literally a mile from here (the Benton County Courthouse) and that's one of the reasons why we wanted to implement this gang task force," says Small.
In November, 21 year old River Saenz was shot and killed behind Prosser High School. Prosser Police are not sure if he was in a gang, but they think the shooting is gang related.
His unsolved murder is considered the only gang related homicide in Benton County last year.
Small says the Sheriff's Office is beginning the hiring process.