BBB warns about magazine sales scams
Posted:
Updated: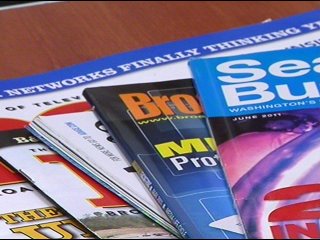 KENNEWICK, Wash.-- The Better Business Bureau has a warning about door-to-door magazine sale scams. Every year as temperatures warm up, people selling magazines go around neighborhoods, but the BBB warns some are scammers looking to make a quick buck.
Here is advice from the BBB:
Listen carefully and be aware of high pressure sales tactics. Some unscrupulous door-to-door sellers will put pressure on you to close the deal at that moment, and even make special offers to entice you. Listen to their tone. Are they increasing in volume as they speak to you? Are they ignoring you despite saying you are not interested? Find a way to end the conversation quickly to avoid long, drawn-out pressure sales pitches.
Stand strong. Do not invite unsolicited salespeople into your home. If you do allow a salesperson inside and decide during the presentation that you are not interested in making a purchase, simply ask him or her to leave. If the salesperson refuses to leave, threaten to call the police, and follow through if they don't leave immediately.
Verify the individual and the company. If you are interested in buying from a door-to-door seller, get everything in writing including price, warranty and all conditions. Tell the salesperson you will check it out and get back to him or her. Ask for a business card and contact information. Look the company up yourself and check to verify this person is an employee. Also, take the time to check out the company's BBB Business Review at www.bbb.org.

Know your rights. The Federal Trade Commission's Three-Day Cooling-Off Rule gives the customer three days to cancel purchases over $25 that are made in their home or at a location that is not the seller's permanent place of business. Along with a receipt, salespeople should also include a completed cancellation form that customers can send to the company to cancel the agreement. By law, the company must give customers a refund within 10 days of receiving the cancellation notice.
The BBB says if you think you've been a victim of a magazine sales scam, file a complaint with them, local law enforcement, and the state Attorney General.