Latinos encouraged to run for city council and school board
Posted:
Updated: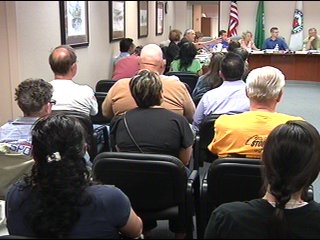 YAKIMA, Wash- They're about 40% of the city's population but 0% of elected government officials. Local Latinos have been well aware of that unusual statistic for some time, but lately it's gotten advocacy groups across the state looking at Yakima.
"We have certain needs that need to be addressed by this community and we don't believe they're being addressed", says Mateo Arteaga, board member with Latino Civic Alliance.
That's why the Latino Civic Alliance is trying to get Hispanics to run for city council and school board. Based out of Seattle they focus on encouraging Latinos to participate in government.
"It could be a non-Latino but they have to have their heart in the right place. We have not seen that occur here in Yakima", says Arteaga.
Most recently Latino activists point to the E-Verify debate. Last night dozens came out against the proposed immigration screening. The city council passed it anyway.
"We need to have a representative on the city council that will be representing the people of my district and also the citizens of Yakima", says Rogelio Montes.
Montes, who does farm worker education has filed for the district two seat Dave Edler will be leaving. As of Wednesday afternoon, he's the only person running in that position, and the only Latino running for city council.
But filings have been slow across the board. About 15 fewer people have filed than in 2007 when there was the same number of vacant seats.
If Montes wins, he will become the second Latino city council member in Yakima's history.
"We need to have our young people look up and see there is some role models in our communities", says Arteaga.
The deadline to file for any of Yakima County's 128 vacant positions is Friday June 10 at 3:30pm.