Local Wounded Marine Receives Purple Heart
Posted:
Updated: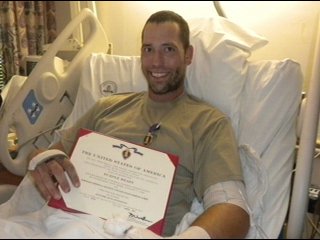 SELAH, Wash.--Local Marine Corps Sergeant Joshua Elliot is continuing to recover in California after being injured over seas.
Looking over pictures of her son in her Selah High School office, Delynn Elliot cannot help but be positive about Josh's condition and mindset.
"He's really doing fabulous," said Delynn. "The one thing about Josh is that the whole entire time his attitude has just been wonderful."
While deployed to Afghanistan earlier this year, Josh was hit by an improvised explosive device, or IED. He ended up having both his legs, and several fingers amputated along with skin grafts to repair skin destroyed by the blast.
"He's thankful that it was him who got hit. he said, 'my job was to make sure that everybody got safe and I just prayed that if anybody went, it was going to be me,'" Delynn said.
While undergoing his recovery Sergeant Elliot received the Purple Heart for his service overseas from Corps Commandant, General James Amos, the highest ranking official in the Marine Corps.
"So General Amos came in and gave his his Purple Heart, awarded it to him," said Delynn. "And it was a real honor for him."
Josh and his family say they are grateful and given strength by the support of those in Yakima and the surrounding communities.
"The Marines definitely fulfilled, fulfill Joshua's life," said Delynn. "He loves being in the Corps, he loves being a Marine."