Local Company to Help Pet Owners Clean Up
Posted:
Updated: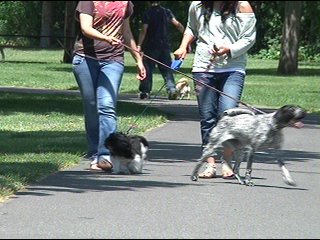 YAKIMA, Wash.--Pet owners have used everything from pooper scoopers, shovels or even plain old plastic bags. But Yakima residents need only make a phone call to clean up after their pets.
"Let us do the dirty work," said Kimberly Reed, owner of Poop Squad.
Poop Squad is a company new to Yakima, with a service that seems to be very popular in other cities around the US.
"I did find a very popular trend going for this type of service. A lot of people don't have time to do it and nobody really likes to do it but it needs to be done," said Reed.
The idea is simple. They come to your home, either on a weekly basis or for a one-time visit, clean your yard of all pet waste and dispose of it in their biodegradable bags.
Reed says that with people's busy schedules they find it hard to make time to clean up after their pets, plus the process stinks!
"People nowadays are just very busy and they don't have time, but when they go out to their backyard or front yard they want to be able to see nice green grass. They don't want to see dog piles everywhere," Reed said.
Poop Squad's owners say that pet waste left uncollected can seep into your lawn, not only ruining your grass but also making its way into the groundwater.
"After a week or two weeks of neglecting that waste, rain and other things can take that and carry that in our water supply," said Reed.
Poop Squad makes sure to disinfect their hands and shoes after every visit to help control the spread of dog disease. They currently have several residential clients as well as the Yakima Humane Society but they are looking to get even more business.