Walla Walla loses to Cowlitz, 9-3
Posted:
Updated: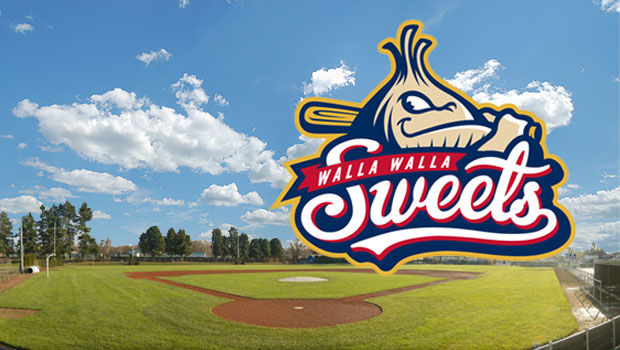 LONGVIEW, Wash. -- Done in by a six-run second on Friday night, the Walla Walla Sweets put together their own big inning on Saturday, scoring four runs in the second and the games final five runs to even their three-game series with the Cowlitz Black Bears at one-apiece on Saturday night at Story Field.

Motivated by a 1-2-3 first from starter Tim Culligan, the Sweets (3-2) hitters came to bat in the second ready to swing the sticks. Goose Kallunki started things immediately with a leadoff double inside the third base bag but was still standing their two outs later. Then, ahead in the count 2-0, James Campbell drilled an RBI double off the left-center field wall to give the Sweets a 1-0 lead. The very next batter was Campbell's Pomona-Pitzer teammate Nick Gentili, a lefty that was hitless in his first 17 at-bats of the summer. Behind 1-2, Gentili stroked the next pitch, a breaking ball down and in, over the right field fence for a two-run home run and his first hit of the summer. Unfulfilled with their inning so far, Alex Stanford started things right back up with a sharp single to right and later scored on Chance Kopacz's RBI single to right. In all, eight men batted in the inning, five had hits and the Sweets had a 4-0 lead.

Culligan made that stand up. Getting the start at his former home ballpark, Culligan pitched two years at Story Field while at Lower Columbia, the right-hander gave the Sweets six solid innings. The quick first was followed by a second inning in which he dropped a pop up but still recorded an out on the play. He struck the next batter out looking and Kevin Hawk completed the strike 'em out, throw 'em out double play with a perfect throw to second. Hawk was involved in the ending of the third inning as well. Batting with a runner on second and two outs, Derek Atkinson dragged a bunt in between the pitchers mound and first that Culligan dove for but bobbled. Mitchell Walding, the runner, saw the bobble and Hawk vacating home plate. Hawk quickly realized this and raced to home, received the throw from Austin Heaps and collided with Walding as he slide in head first, holding onto the ball and ending the frame.

Cowlitz (1-4) finally got to Culligan in the fourth thanks to singles from Billy Flamion and Spencer O'Neil, both of whom were drafted out of high school earlier this week. A wild pitch moved the runners into scoring position and Kirk Cunningham's ground out scored the first Black Bear run. Cowlitz got a 1-2-3 fifth from Ryan Yuengel and then went right back to work. Brent Graham singled with one out, stole second and then scored on a two-out single by Atkinson. The speedy leadoff batter stole second himself and scored on a strange play that saw Flamion's ground ball up the middle bounce off Culligan's glove, away from a diving Wentz and into shallow right. Playing right, Kopacz quickly got to the ball and threw behind Flamion who had taken a big turn at first for the final out, just moments after Atkinson crossed the plate for the third run.

Walla Walla quickly answered in their next at-bat thanks to Heaps. Jumping on a pitch at his letters, Heaps drilled a leadoff double to right-center, altertly moved to third on a ground out to short and scored on Wentz's ground ball to short. After Culligan tossed a scoreless sixth, the Sweets put the game away in the seventh.

Sending ten men to the plate, Walla Walla scored four runs on three hits and one Cowlitz error. Stanford picked his second hit of the night with one out, Brenton Allen was hit by a pitch and Kopacz's ground ball to third was thrown away at second, allowing Stanford to score the first run. Heaps followed with a walk and Kallunki and Wentz followed that with back-to-back infield singles, Wentz's a sharp one-hopper that caromed off the shortstop and into center. Campbell picked up his second RBI of the night with a bases loaded walk to complete the scoring for the Sweets.

Entering with a six-run lead, Brett Watson had some wiggle room to work with. He quickly made things interesting, allowing the first three batters to reach on a single and two walks. Bearing down, the left-hander used a great mix of sliders and fastballs to strike out the next two batters looking and then got out of the inning with a flyout to center. He put himself right back into trouble in the eighth, with the first two batters reaching. Stanford then turned a ground ball to short into a 6-3 double play but Watson followed that with two straight walks to load the bases. The Sweets called on Ryan Richardson and the righty did his job, inducing a ground out to third to end the eighth and pitching a 1-2-3 ninth to close out the win.

Stanford and Kopacz each had two hits; Wentz, Campbell and Gentili drove in two and Heaps joined Stanford with a pair of runs. Culligan picked up his second win of the season, striking out four and walking three over six innings. Atkinson, Flamion and O'Neil all had two hits for Cowlitz and Walding drew three walks. Jeff Gold started and last only four innings for the Black Bears, allowing four runs on six hits. The last of Cowlitz's three pitchers, Richi Sandoval worked 2.2 innings of hitless relief, striking out four.

The teams finish their three-game series on Sunday night at Story Field with first pitch scheduled for 5:05 p.m. Simon Anderson, from North Dakota St., will make his first start of the summer for the Sweets and he'll face Clayton Porter from the University of Oregon.