National "Dump the Pump" Day
Posted:
Updated: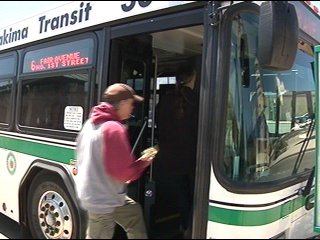 YAKIMA, Wash.--The American Public Transportation Association's annual "Dump the Pump" day takes place Thursday, and Transportation Secretary Ray LaHood is urging people to consider the economic benefit of taking public transit.
"The Obama Administration is committed to reducing our nation's dependence on foreign oil and using public transit can help get us there," Secretary LaHood said in a Federal Transit Administration press release.
With gas prices continuing to be high and uncertain many people around Yakima are using public transportation in record numbers.
"Ridership is up 6.5% this year compared to this time last year," says Ken Mehin, Yakima Transit manager. "And I forecast that we will hit 9% by the end of this year."
Bus riders here in Yakima say that it is both convenient and affordable to take the bus system.
"It's always on schedule, always on time. I guess it gets us to where we need to go," says Jason Wane.
"You don't have to spend so much on gas and then you're not the one driving so you don't have to worry about tickets or other people in your way," Adriana Dehonor says.
According to the APTA's most recent report, a 2 person family, on average, could save more than $10,000 a year by downsizing to one car.
Mehin says that even though there are great benefits, people are still hesitant to take public transportation.
"We offer about 10 weeks of free Saturday and Sundays. That'll help the people get to know the bus service and lose the fear of, 'I don't want to get lost on the bus,'" says Mehin.
Yakima's transit system runs in 15 minute intervals with frequent pickups giving riders the freedom to get on and off when running errands or making their way to and from work.
"I go way over there, so it's pretty convenient," says Melissa Brown.