Many people are not getting HIV/AIDS tests until they are sick
Posted:
Updated: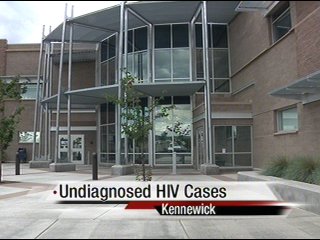 KENNEWICK, Wash. -- Experts at the Centers for Disease and Control and Prevention (CDC) have long estimated that 20% of people infected with HIV don't know it. One-third are diagnosed so late in the course of their infection that they develop AIDS within one year. The new analysis found that the states with the biggest epidemics and the greatest number of late diagnoses are Florida, New York , Texas, Georgia and New Jersey.
It's a problem that is seen here as well. Heather Hill, the Communicable Disease Supervisor for Benton Franklin Health District says people are not being tested. "A lot of times people don't get a diagnosis until they actually have some pretty significant symptoms of HIV and possibly AIDS. And that's what drives them to their healthcare provider or perhaps the emergency room. But when we get a hold of their medical record, we start looking back at doctor visits, hospital visits, emergency room visits, the picture is there," says Hill.
Hill says it is the patients responsibility to know if they are at risk and also the providers to not judge people and just get everyone a test if they are at risk.
The Benton Franklin Health District has about 200 HIV and AIDS patients listed in both counties. Hill says she sees about 6-10 new cases each year.

Hill says with treatment, infected persons not only live better lives but they can cut the risk of infecting others significantly.
The district will be providing free testing on June 27th.
Since 2006, the CDC has recommended routine HIV testing in medical settings, says Kevin Fenton, the CDC's director of HIV/AIDS prevention. He says late diagnoses have declined 5% from 2001 to 2007. "It's not where we'd like to be, but we're moving in the right direction."