Yakima County Celebrates Reunification of Parents and Children
Posted:
Updated: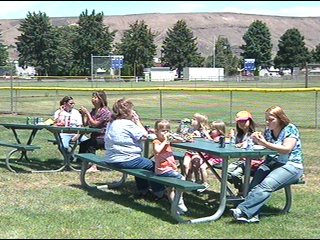 YAKIMA, Wash. -- Yakima County's annual reunification celebration was held Thursday. It recognizes parents who have lost their children in court due to poor choices, but worked extremely hard to get them back. Reunified parents received a certificate and a picture at the Yakima County Juvenile Court, but those parents say their real prize is their children.
Though most parents focus the attention on their children, the court also focuses on the behavior of the parents. If a commissioner determines the children are not in a safe environment, they're sent to live with a relative or guardian--or even go to foster care. Parents then have to go through an extensive process to show they've improved. Some waste no time. "I had everything started. I was trying to go in the right direction to begin with. I ended up doing some wrong things trying to help somebody else who didn't want to help themselves. I just wasn't going to write my kids off for that," said Scott Johnston, a reunified parent and Army veteran.
The local Parent Advisory Committee helps the families get back on track with mentoring and support. Some food and outdoor fun at Elks Park helped lift the atmosphere for the day as well. "I think people are really happy. There's a lot of energy, positive energy. People are feeling like they want to move forward," said Lashaunda Harris, who worked for the Washington state PAC before taking charge of the local Yakima PAC.
At any given time, there are around 600 children under the age of 18 involved in the dependency court system in Yakima County. In the past 12 months, 230 children's cases have been dismissed.