Washington smoking rate increases
Posted:
Updated: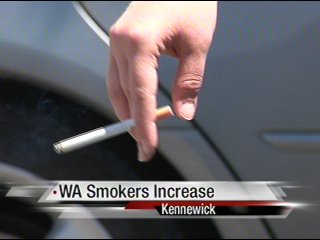 KENNEWICK, Wash. -- Washington, a state that has been had of the lowest smoking rates in the nation, has taken a sizable drop from its third-place ranking, tying with Maryland this year for 11th place.
Currently, 15.2 percent of adults in the state smoke, up from 14.9 percent last year, according to numbers from the U.S. Centers for Disease Control and Prevention (CDC).
Washington used to be third, just behind California and Utah, but has taken a big drop. Oregon used to be 10, but it also got knocked down to number 26th in the country.

Dr. Jecha with the Benton Franklin Health District says there are a couple of reasons for the drop. One, Washington has always had very strict smoking bans and high taxes on cigarettes, and now other states are improving and following our example. Two, we lost much of our funding.
In the last two years, Washington tobacco prevention programs have lost about 60 percent of their funding. "The programs we had in the high schools, trying to get kids to not take up tobacco, and to quit, both, all that will be gone," says Jecha.
The tobacco quit line is also losing it's funding. They have taken calls from 150,000 people trying to kick the habit since starting in 2000.

This year the prevention operating budget went from $29 million dollars down to $12.5 million.