The future of the Hanford site
Posted:
Updated: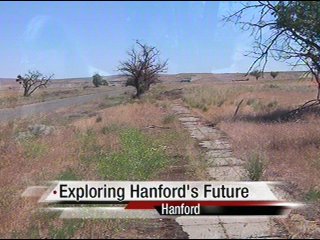 RICHLAND, Wash. -- Hanford's past is full of history. Now, members of the Tri-Cities with economic and political backgrounds are exploring plans for its future. Luring new businesses to the site has been discussed, but tourism is also an option.
The Hanford Reservation may not look like much to some people, but others beg to differ. Kris Watkins, with the Tri-Cities Visitor and Convention Bureau said, "people are wanting to reconnect with their history, they're wanting to learn about an area."
Local politicians, community members and economic leaders took a tour Monday to come up with ideas for the land being cleaned up by the Department of Energy. After the clean up, much of the land will be converted to public and private ownership.
Colleen French with the DOE explains, "Columbia River Corridor, part of the Hanford site is going to be cleaned up by 2015. And the Columbia River Corridor contains a number of historic facilities, one of which...the White Bluffs Bank."
"It's about getting people to Eastern Washington.They're going to come here for a multitude of reason, they're going to come home to taste wine, golf, and also learn the history of this area." John Bookwalter, from Bookwalter Winery said.
"There's 10,000 years of history, I mean with the ice age floods that come through, the story about the tribes, to the European early settlers here to the Manhattan project," said Watkins.
Some plans discussed include bus tours as well as bike and walking trails along the 586 square-mile area. Despite the goals, a date has not been set on when the plans will go into effect.