Tri-City Bats Awaken in Big Win
Posted:
Updated: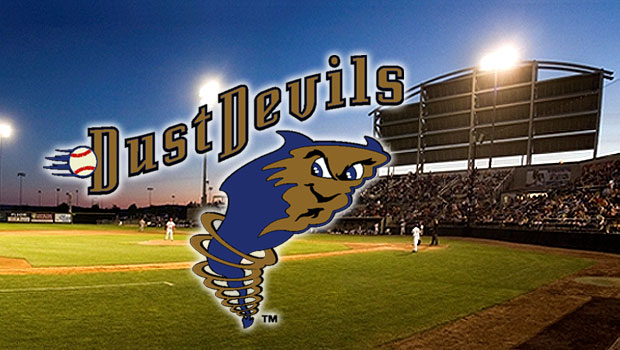 Pasco, WA--
The Tri-City Dust Devil bats that seemingly fell asleep for the large part of game three against the Everett AquaSox Sunday awoke with a fury Monday night as they smashed 16 hits on their way to an 8-1 win. The Dust Devils scored five runs in the fourth inning, all with two outs, to give themselves some breathing room as they evened the series with the AquaSox at two games apiece.
Tri-City (2-2) starter Tyler Gagnon was unable to reap the rewards of the offensive onslaught as he worked 4 1/3 innings and allowed one run on four hits. In his Dust Devils debut, Gagnon also struck out five while walking one. Earning the victory for the Dust Devils was reliever Rhett Ballard (1-0). Ballard worked 1 2/3 shutout innings in relief of Gagnon in which he allowed one hit and struck out two.
Getting tagged with the loss for the AquaSox (2-2) was starter Jordan Shipers (0-1). Shipers struggled early, allowing two runs in the second and four of the five in the fourth. Everett reliever Jason Buursma did not do much better for the AquaSox, allowing two runs in his 3 1/3 innings of relief.
Dust Devils' outfielder Leonardo Reyes exploded for his best game of the season, going 3-for-5 with two runs batted in. Second baseman David Hernandez and catcher Ryan Casteel also had three hits each and drove in two runs and one run respectively.
The series finale between the AquaSox and Dust Devils takes place Tuesday as the only day game of the season at Gesa Stadium. First pitch is at 11:15 a.m. with gates opening at 10:15 a.m.