Drum Therapy Program Helping Parkinson's Patients
Posted:
Updated: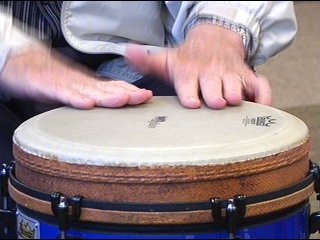 RICHLAND, Wash.-- Music, specifically drumming, may help patients with Parkinson's and other similar neurological diseases. That's why Kadlec Regional Medical Center is now offering a drum therapy program.
Beverly Beattie's husband Gene has Parkinsonism, similar to Parkinson's. They've been coming to the weekly drum program at Kadlec's CardioPulmonary Rehab Center since the program started almost a year ago. After a recent therapy session, Beattie, almost in tears, says, "He was singing just a little while ago. He only sang one song, but he did.. The first words I've heard in probably three weeks!" She attributes it all to the drum program.
Music Therapist Bill Dluhosh started the program nearly a year ago. He begins each session with a simple drum beat, and everyone, patients and caregivers, join in. Dluhosh says, "Playing music actually increases serotonin and dopamine production in the brain, which through Parkinson's decreases with the progression of the disease."
As each 45-minute drum session progresses, patients can try out different types of drums, beats, and even sing along to lyrics from familiar songs.
Dluhosh says, "Specifically with drumming, there's a rhythm and a beat to it, so there's an anticipation there that our brains connect with."
One woman whose husband has Parkinson's says while playing drums and right after, his hands stopped shaking. Dluhosh explains that's because, "It helps maintain muscle movement, so it helps smooth out their motor control. And the effects have been shown to last longer than just the session, for hours afterwards."
Beverly Beattie says every now and then, outside of the drum program but since starting it, she sees Gene do something he rarely does. She says, "He never ever would sing in the car or at home and I caught him a few times, he was singing with the radio."
She holds out hope that it'll happen again."Maybe next week I can hear him again."
The drum therapy program is open to anyone and it's free. It's every Thursday at Kadlec's CardioPulmonary Rehab Center on Gage Boulevard in Richland, from 11:15 to noon. You can just show up or call Kadlec Therapy Services at 942-2660.