World Trade Center 9/11 artifact to come to Kennewick
Posted:
Updated: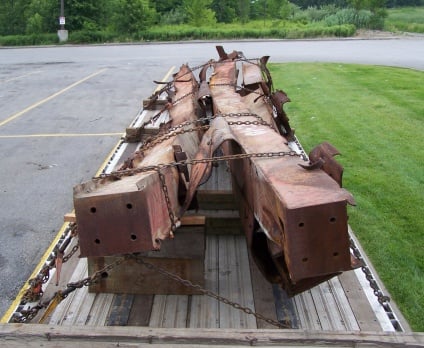 KENNEWICK, Wash. -- The City of Kennewick is set to receive an artifact from the World Trade Center. Below is the release from the city:
Lampson Crane, Inc., of Kennewick is proudly coordinating and funding the transport of a 9/11 artifact donated to the City of Kennewick from the Port Authority of New York and New Jersey. The artifact is a six thousand pound 35 foot steel column recovered from one of the World Trade Center Tower sites after September 11, 2001. The steel column was picked up in New York on June 21st, and is scheduled to arrive in Kennewick within the next several days. After arrival in Kennewick, arrangements will be made for a public viewing of the steel column while on the trailer, possibly during the 4th of July holiday.
The City began the process of obtaining this artifact back in the fall of 2009 when Mr. Bill Lampson became aware of the opportunity to obtain a 9/11 artifact. Mr. Lampson approached the City of Kennewick leadership asking if they would like to take the lead in displaying the artifact in their City, and a partnership was born.
Kennewick City Manager Marie Mosley asked that a committee be formed to determine a location for the artifact to be displayed within the City and decide how it would be displayed, at no cost to our tax payers. City Councilmember Paul Parish volunteered to identify members of the committee and lead the group through the project's completion. Committee members consist of: Fire Chief Neil Hines; Police Chief Ken Hohenberg; Terry Walsh, City Employee & Community Relations Director; Ryan Durham, City Engineering; Mark Yaden, Fire Marshal; Herb Coulter, Lampson Crane Inc.; Dennis Poland, Ray Poland & Sons; Brandon Franklin, Apollo Sheet Metal; Tom O'Neill, Apollo Inc.; Karen Miller, Benton PUD; Randy Mendenhall, Heritage Landscaping; Tony Edwards, Allen Electric; Brad Snuggs, Frontier Fence; and, Craig Mayfield, Central Pre-Mix Concrete Co.
It is the committee's intent to construct a memorial that pays tribute to those that lost their lives on 9/11, and have a place where citizens will be able to give homage and reflect on that tragedy. Fire Chief Neil Hines stated, "The steel will be a reminder of the events of 9/11. We do not want people to forget about those that were needlessly taken from us and those who gave of their own lives in hopes to save others."
The committee has decided to locate the artifact within the new Southridge Sports Complex near Highway 395. To date, all materials and labor have been donated to construct a memorial. Construction will be underway soon, and the dedication of the monument is scheduled for September 11, 2011, at 3:00 P.M., on the Tenth Anniversary of 9/11.
City Manager, Marie Mosley expresses her sincere appreciation to all the local businesses and individuals who are working diligently through their donation of time, labor and construction materials to bring this special memorial into our community for the benefit of our citizens, and future generations.