Even With Success, Hogben Still Pitching in Yakima
Posted:
Updated: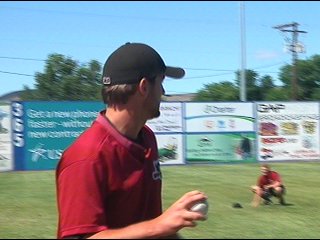 Yakima, WA---
The numbers suggest Kable Hogben shouldn't be pitching in Yakima. The man from down under in 28 games last season, had an ERA under one. He's off to another great start again from the bump, begging the question why is he back?
When first asked, Hogben said, "A little surprised yeah. Just keep pitching hard. You can't let it get to you and pitch badly. Cause that's just gonna hurt you worse. So you just got to go out there and just keep succeeding and hopefully they'll move you up."
The Australian native made a brief six game stint with South Bend this season, a higher level of Class A ball, before being sent back to Yakima. As a Bear this season, he's yet to yield a run in six innings of work from the bullpen, heading into tonight's game against Spokane.
Hogben said, "I think the confidence from last year... I got on a good start and I just built from that you know."
The Arizona Diamondbacks Director of Player Development told us they don't want to rush the 20-year-old. Meaning all Hogben can do right now is focus on improving his game as a bear.
Bears Manager Audo Vincente said, "I think we put players where they gonna have success. You know what I mean? So we're not going to send players somewhere just cause he has to be there."
Hogben added, "It's all a learning process... I mean... And yeah you just got to learn something everyday. Whether it's here or it's the next level I got to learn something... So I got to take everything I can out of it."
In the meantime, we can all enjoy the Aussie and his loveable catch phrases when his pitches.@
Hogben uses such phrases as: "Struth... Bloody Oath... And Shorely... Apparently that's a fan favorite... Shorely."