Police standoff ends; suspect turns himself in
Posted:
Updated: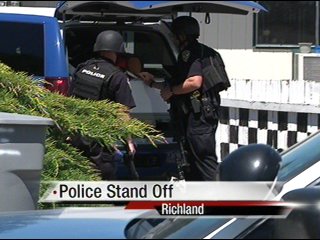 RICHLAND, Wash. -- A Richland man is speaking out after Richland police surrounded his home armed with bullet proof vests and rifles. Police say they went to the home of 44-year-old Anthony Burnett on Benham Court in Richland at 11:30 Sunday morning to arrest him.
They tell say Burnett had outstanding fines connected to past crimes he was charged with. But after two hours of surrounding the home, police learned Burnett was not there.
For neighbors, seeing officers with rifles and bulletproof vests literally in their backyard was intense. "I mean it was scary, 'cause whenever you see that, your first reaction is like, what's going on. You know, this is usually a pretty quiet neighborhood, so it was kind of a little bit awkward seeing everybody, I mean I have kids," said neighbor Danielle Warner who witnessed the incident with other residents.
Burnett says he was at an undisclosed location talking with police on the phone. He turned himself into custody at the Benton County Jail Sunday night.
"This is a legal financial obligation that was not paid, it was a miss-sight on mine. I paid it in March and April and I missed one month and Benton County puts out warrants for that. This is the wreckage of my past that I need to pay," said Burnett.
Police say Burnett may have been armed and the vests and guns were for their safety. Some neighbors say the gear was unnecessary.