1 in five children ages 2-5 are overweight or obese
Posted:
Updated: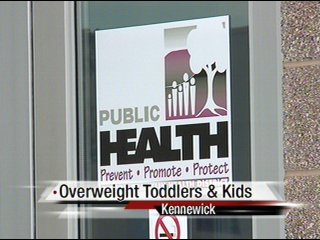 KENNEWICK, Wash. -- According to a new report by the Institute of Medicine, even the youngest children in the United States are at risk of becoming obese. Today, almost 10 percent of infants and toddlers carry excess weight for their length, and slightly more than 20 percent of children between the ages of two and five are already overweight or obese. Because early obesity can track into adulthood, efforts to prevent obesity should begin long before a child enters school.

The Women, Infants, and Children Program Supervisor for the Benton Franklin Health District, Annie Goodwin, says the numbers they see at their Kennewick office are the same as the national average.
Goodwin says kids are not getting enough sleep, they do not exercise, and parents do not know how to cook. She says one thing mothers can do is breast feed for the first six months. "Open your eyes and look next time you're at the playground of dreams or at the park or at the gym and you will see not only overweight adults but you'll see overweight children, and overweight little kids," said Goodwin.
The WIC Program is trying to change the problem. They are even giving mothers who qualify for WIC benefits, a chance to shop at local farmers markets, where they can pick up fresh fruit and vegetables.
The IOM reviewed factors related to overweight and obesity from birth to age five, with a focus on nutrition, physical activity, and sedentary behavior. In this report, the IOM recommends actions that healthcare professionals, caregivers, and policymakers can take to prevent obesity in children five and younger. Pediatricians and other healthcare professionals have an important opportunity to make parents aware of their child's excess weight early on, and the IOM recommends that healthcare professionals measure weight and height or length in a standardized way, as well as pay attention to obesity risk factors, such as rate of weight gain and parental weight, at routine pediatric visits. In addition, the IOM recommends that parents and child care providers keep children active throughout the day and provide them with diets rich in fruits, vegetables, and whole grains, and low in energy-dense, nutrient-poor foods.
Caregivers also should limit young children's screen time and ensure that children sleep an adequate amount each day. What happens to children during the first years of life is important to their current and future health and well-being.