Local hero receives Purple Heart
Posted:
Updated: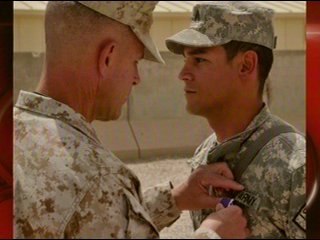 It's the oldest award that's still given to members of the U.S. military, and one local hero just received the Purple Heart this month.
On Frank Barquist's second tour of duty in Afghanistan, he and his platoon clipped an IED in April which blew up their Hummer. Shockingly, they survived, and Frank walked away with only a concussion, and now, a Purple Heart.
The award was given to him on June 17th. We learned from him family that Frank graduated from Southridge High School in 2005, and he already finished one, 13-month tour before he went back to Afghanistan this past October.
His family says Frank is a go-getter, a true leader, and they're thankful he's alive and well.
"He's awesome whether he got a Purple Heart or not, and we're blessed that he was willing to go over there and sacrifice his life for all of ours," his mother Rhonda Coffin said.
"It was kind of a shock because it's like... that'll never happen to my brother...but at the same time he has really thick skin so it didn't surprise us at all that he'd come out well," his brother Edward Barquist said.
His mother says Frank dedicated his first tour to three soldiers who previously died. So he always carries a poem in honor of them.
In it says "You are not related to me by blood.. But you are my brother.. I will cry for you today... As you my brother have gone away."
Words carried by a true hero, and now a Purple Heart recipient.