Ramon Garcia Morales sentenced to 67 years in prison
Posted:
Updated: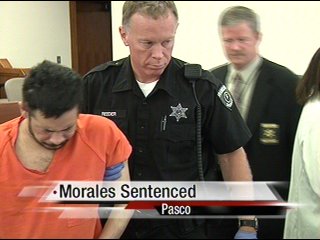 PASCO, Wash. -- To pay for killing a Pasco father and wounding his wife, Ramon Garcia Morales will spend the majority of his life in prison.
Morales has been silent, and virtually unresponsive throughout his entire trial. His sentencing Tuesday was no different. Morales sat motionless as a Franklin County judge sentenced him to 67 years in prison.
The man was charged and found guilty of shooting and killing Alfredo Garcia in December of 2008. The victim and Morales were related. Morales went to his home to argue about being excluded from field work when Ramon shot the man and his wife.
Throughout the trial, Morales' Defense Attorneys argued he was not competent to stand trial. They even brought it up again Tuesday.
The prosecution says despite this being a victory, the victims' family will never be the same. Terry Bloor, prosecutor said, "I'm sure the family has some sense of relief, but on the other hand, I'm sure nothing that the court can do is ever going to make this situation right."
Under the recommended 67 year sentence, Morales will be 96-years-old when he Is released. His lawyers have 30 days to appeal. Defense lawyers declined to comment as to whether they would pursue that option.
Garcia's wife and children were in court to hear the sentence. In addition, they prepared a statement to be read by prosecutors.
Benton County prosecutor Terry Bloor read the statement of Maricela Garcia, the victims daughter, "I now spend day's crying myself to sleep and making up to dreadful and horrible dreams I now live my life being scared that any of these days something could happen and they could come back for me and my family."
In addition, the family says after the death of Alfredo, they went from being financially independent to relying on food stamps and social security to get by.
Garcia's wife, Maria who was shot and paralyzed talked about life in a wheelchair and anguish over depending on her children to take care of her.