Dust Devils Crush Boise 9-3
Posted:
Updated: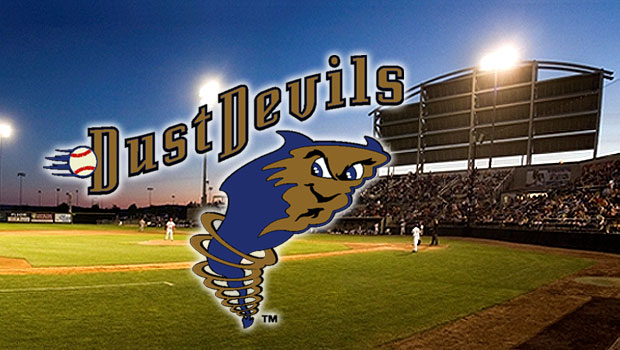 PASCO, Wash. -- The Tri-City Dust Devils blew the cover off of the ball, in a park renowned for just the opposite, hitting two home runs en route to a 9-3 win over their division-rival Boise Hawks. The Dust Devils are now in a three-way tie with the Spokane Indians and the Hawks for first place in the East Division.
Dust Devils (8-6) starter Tyler Gagnon earned his third no-decision of the season, going 3 2/3 innings and allowing two runs, one earned, on four hits. Reliever Chris Dennis (1-0) earned his first win of the season and first professional win as well. The Bothell, Wash. native worked 2 1/3 shutout innings and allowed just one hit while walking none.
Hawks (8-6) starting pitcher Willengton Cruz (0-1) did well but didn't get much defensive help in his first loss of the season, allowing three runs with only one of which earned. Cruz allowed only three hits and didn't walk a batter while striking out four. Boise reliever Dustin Fitzgerald didn't help matters for the Hawks, allowing six runs on five hits in only 1 2/3 innings on the mound.
Tri-City infielder David Hernandez got things started for the Dust Devils, hitting a solo home run in the third inning, but it was outfielder Brian Humphries who got the 2,041 at Gesa Stadium cheering loudest. Humphries blasted a grand slam out to right field in the sixth inning to give the Dust Devils the breathing room they needed to win comfortably. Hernandez and Humphries each had two hits on the night and drove in five of the nine Dust Devil runs.