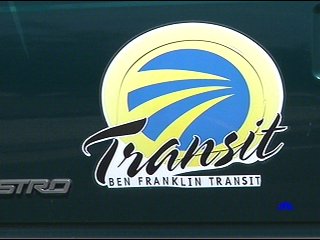 Richland, Wash.- A Washington State think tank says generous fringe benefits for Ben Franklin Transit employees are part of the reason why people in the Tri-Cities are paying more taxes.
The Washington Policy Center says since 1996 Ben Franklin Transit's ridership has gone down while their costs have gone up. They say "generous fringe benefits" are partly to blame.
Chris Cargill, with the Policy Center, said, "We wanted to make sure that the people in the Tri-Cities region had information on Ben Franklin Transit; the way it is operating, and how much it's costing, and whether the people are really getting a bang for their buck."
KNDU spoke to the Ben Franklin Manager of Service Development who said, "I think there's kind of an assault right now on retirement packages, I think that bus drivers and school teachers need to be able to retire and maintain a standard of living," Kathleen McMullen.
WPC says a 140% increase in benefits takes up a big chunk of the cost. Tax payers help pay part of BFT's bills.
We talked to other transit authorities in Washington State; BFT wages and benefits account for 61.8% of it's total 2010 budget. At Link Transit in Wenatchee and Intercity Transit in Olympia make up about 70%. Yakima Transit falls around 40%.
BFT'S cost have gone up, but the numbers show their employee benefits fall somewhere in the middle.