Firefighter demonstration shows how dangerous fireworks can be
Posted:
Updated: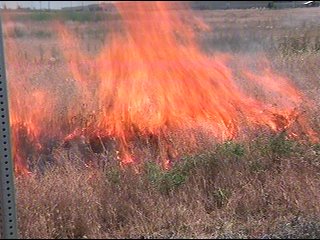 YAKIMA, Wash.--Last year in the state there were 358 fires caused by fireworks over the 4th of July weekend. With help from Region 7 fire forces including East Valley Fire and Yakima Fire, they showed just how real the danger can be.
"There are several factors which influence fire. Number 1; topography, 2; fuel, 3; temperature and humidity," said Capt. Brandon Dorenbush of the Yakima Fire Dept.
Captain Dorenbush says the types of vegetation that grow in the Yakima Valley can easily burn with a small spark.
"When fireworks come down, they have little embers so they'll kind of fester and sit in the duff," said Dorenbush. "That fire can actually take off and spread to be a huge wildfire."
They stress that even seemingly harmless sparklers can be a big threat.
"General sparklers kids use, they get upwards of around 2000 degrees, give or take, so they're definitely hot," said Lt. Keith Schrank of the East Valley Fire Dept.
Fires this time of year move fast, making for big trouble. It only took about 2 minutes for a 40x70 ft. fire to burn out of control.
"When the fields catch on fire and it gets wind driven, it can be to a house in a matter of minutes," said Schrank.
Firefighters also remind people of the dangers of using fireworks.
"You definitely want to be safe handling the fireworks. If you light a firework and it does not go off," Schrank said. "There might be a problem with that firework and if you pick it up and handle it, you could be looking at some serious injuries."
Crews around here say they see fires caused by fireworks but hope that this year people will watch the display, rather than make them.
Laws vary with the area that you live so remember to always check with your city or law enforcement to see if it is legal to light them off.