Baby suffers from 200 seizures every day
Posted:
Updated: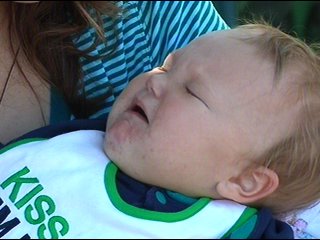 KENNEWICK, Wash.—Ten months ago a Kennewick couple was excited to add a fifth child to their family, but now they are fighting to keep the baby alive.
10-month-old Patrick Murphy suffers from almost 200 seizures a day. He was diagnosed with Infantile Spasms, a seizure disorder that over time can damage his brain.
"He needs a type of surgery called Cortical Dysplasia and what that is, is using imaging techniques they will remove that abnormality from his brain," says Suzie Murphy, Mother.
Murphy says their health insurance, Group Health, will cover a neurosurgeon in Seattle; however, they believe a pediatric neurosurgeon in Arizona would provide better care.
"We want to see the doctor in Arizona, because he has performed this surgery over 1,000 times, and the doctor in Seattle in his career has done it 30 or 40 times," says Shawn Murphy, Father.
The parents tell KNDU the pediatric neurosurgeon in Arizona specializes in Patrick's condition and uses a PET scan that would help remove microscopic areas of seizure activity, two benefits they would not have if the surgery is done in Seattle. Now they are appealing in hopes of giving Patrick what they believe would be an end to his seizures.
The Murphy family is accepting donations to help pay for Patrick's surgery. If you would like to donate, head to http://www.savebabypatrick.com/