Walmart employee loves to stay in the loop of Tri-Cities news
Posted:
Updated: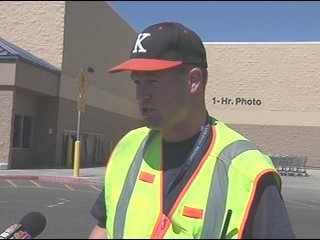 KENNEWICK, Wash. -- Tyler Marquardt loves his job at the Kennewick Walmart. "I've been here for seven years, and in seven years, I'm in great customer service. I have 100 percent attendance, through elementary, middle school and here at work. I come to work on time...I love my job."
"He doesn't miss, he doesn't miss work at all," says Kelly Bayles, his boss and Walmart Manager.
And in the last seven years, he's made many friends from customers to fellow employees. "There was a time when I was having a problem with a customer, and he came over to make sure I was alright. I thought it was pretty special of him," says Claudia Roemling a greeter he's known for the last seven years.
The 29 year old was born with Autistic tendencies, but that doesn't stop him from making friends. "Customers love him, I love working with him, everybody around here loves working with him. always fun to work with he's always got a great attitude," says Bayles.
But Tyler reaches out beyond Walmart and contacts many people in the Tri-Cities. He sends daily emails to KNDU, old teachers, athletes and friends. "He e-mails me all the time, lets me know what's going on if he's got a birthday coming up. he always keeps me in the loop," says Bayles.
Tyler is also planning a tour to KNDU to meet the people he writes to, especially his favorite weather man Tim Adams. He skipped on the tour Friday because he was working and didn't want to ruin his perfect attendance record.