Tri-City too Much for Spokane, 10-3
Posted:
Updated: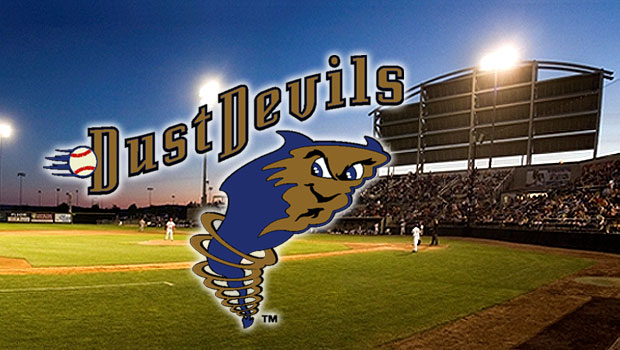 PASCO, Wash. -- The Tri-City Dust Devils' lineup kept its hot hitting going in the series opener Friday night against the Spokane Indians, winning by a score of 10-3. The Dust Devils combined for 11 hits on the night and drove their winning streak to a season high three games. The Dust Devils are now tied with the Boise Hawks atop the Northwest League East Division.
Tri-City (9-6) starting pitcher Ben Alsup did well in his professional debut, going four shutout innings and allowing just three hits and walking none while striking out five. Getting the win in relief for Tri-City was reliever Nelson Gonzalez (1-0), who also did very well. He worked the final five innings for the Dust Devils, allowing three runs, one earned, on five hits.
Spokane (8-7) starter John Kukuruda (0-2) struggled through four innings on the mound, where he allowed six runs on seven hits. The Indians then threw three more relievers, Andres Perez-Lobo, Carlos Melo and Leonel De Los Santos, who combined to allow the final four Dust Devil runs over the last five innings.
Not only did the Tri-City lineup continue to score runs at a frightening pace, but the long ball stuck around at Gesa Stadium as well. First baseman Jordan Ribera bombed his third home run of the season to deep right-center field to give the Dust Devils an early 1-0 lead. Seven different Dust Devils drove home runs with Brian Humphries, Jared Simon and Ryan Casteel leading the way, getting two runs batted in each.
Saturday night at Gesa Stadium all fans in attendance will be treated to a post-game fireworks show presented by Country Financial. Starting for the Dust Devils in game two of three will be Christian Bergman with David Perez opposing him for the Indians.