Bears Score Early and Often in Win Over Hawks
Posted:
Updated: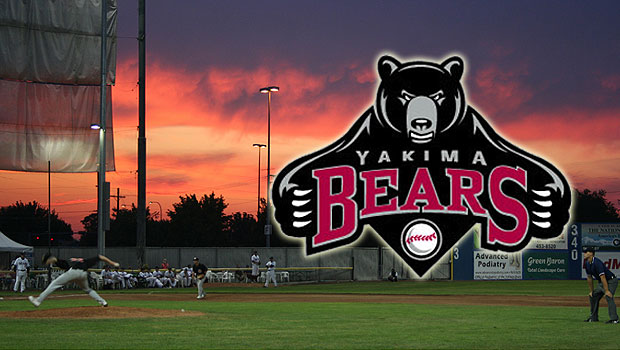 Yakima, WA---
The Yakima Bears defeated the Boise Hawks 7-2 Saturday night to even the series at Yakima County Stadium to 1-1. Both the Bears pitching and hitting responded after putting in poor performances in the series opener the night before.
The scoring started early thanks, in part, to errors by the Hawks defense. Westley Moss led off with a single and made it to third on a ground out and a wild pitch. Zach Jones then reached on an error in the infield, as Moss scored on the play and Jones was credited with the RBI. Jones would eventually score as well to give the Bears an early 2-0 lead.
That offensive output came after Bears starting pitcher Brad Wilson got in and out of trouble in the top of the first. Wilson loaded the bases and then retired three straight batters on strikeouts. Wilson would give up a run in the fourth inning, which was his last inning on the night. In his short outing, Wilson allowed only the one run over four innings and racked up a season-high seven strikeouts.
The Bears offense sparked again once Wilson was done. In the bottom of the fourth Kerry Jenkins led off with a triple and was driven in by a Jae Yun Kim single. Kim scored that inning on a double by Moss and Danny Pulfer also crossed the plate thanks to Raul Navarro. After a pair of errors allowed Jimmy Comerota and Henry Zabala to reach with no outs, Kim belted a ball to left field that plated both runners and put the Bears in front 7-1.
While all this scoring was going on, relief pitcher Justin Albert was shutting down the Hawks offense. The lefty allowed no runs in three innings of work on his way to his first win of the season. Kable Hogben tossed a shutout inning before Evan Marshall gave up a run in his one inning on the mound. The Bears defense turned three double plays behind the pitchers in the game.
The Bears finished with seven hits and were helped by five Hawks errors. Moss, Jenkins and Kim all had an extra-base hit among their two hits in the victory. Kim went 2-for-3 with a double and three RBI.
With the win Yakima is now 5-11 on the season. The Bears finish the homestand with a Sunday 7:05 game at Yakima County Stadium. After Sunday's game, the Bears go on an eight-game road trip and won't play at home again until July 13th. Tomorrow's starters are expected to be Teo Gutierrez for the Bears and Yao-Lin Wang, both right-handed pitchers who have 2-0 records this season.