Dust Devils Come Back to Win 6-5 in 11 Innings
Posted:
Updated: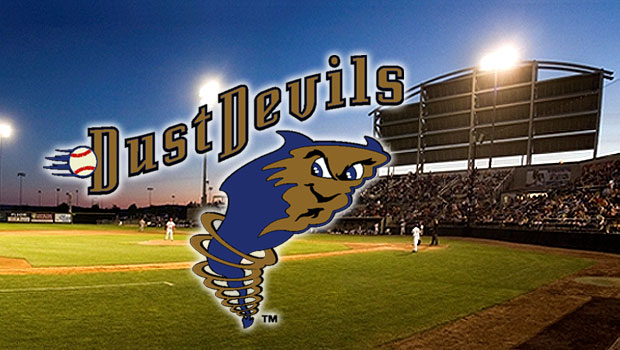 Pasco, WA---
The Tri-City Dust Devils won their third consecutive series and extended their winning streak to four games Saturday night after a walk-off home run to lead off the eleventh inning. Third baseman Jayson Langfels stepped to the plate and launched his first home run of the season to give the Dust Devils the 6-5 victory.
Dust Devils (10-6) starter Christian Bergman had his longest outing of the season Saturday night, going 5 2/3 innings and allowing two runs on five hits while striking out three. Tri-City reliever Kenneth Roberts (2-0) earned his second win of the season after allowing Spokane to take the lead in the tenth.
Spokane starting pitcher (8-8) David Perez also allowed two runs, but in just 3 2/3 innings of work. He allowed those two runs on just two hits and eight strikeouts, but also walked five. Indians closer Matt West (0-1) allowed his first two runs of the season, taking the loss.
The walk-off hero for Tri-City, Langfels, was also the most impressive of the Dust Devils at the plate. He was 2-for-4 with three runs batted in and a run scored. Two other Dust Devils, Tyler Massey and Jordan Ribera, also had two hits each on the night.
Sunday night at Gesa Stadium all fans in attendance will be treated to post-game fireworks in honor of Independence Day, courtesy of Washington River Protection Solutions. The Dust Devils will have starting pitcher Vianney Mayo on the hill while the Indians will send out lefty Victor Payano.