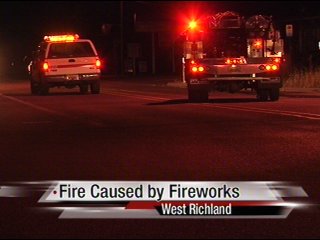 WEST RICHLAND, Wash. -- A fire in West Richland burned more than 75 acres of brush Sunday evening. It started at around 7:30 PM near Grosscup Road and Van Giesen and spread quickly. Benton County District 4 Captain Bill Cherwin says about 8-10 homes were in danger as well as half a dozen businesses near Flat Top Hill.
During the fire fight, fireworks went off the entire evening. Cherwin says the cause is still under investigation, but fireworks in dry conditions are likely the problem. "We're here fighting this fire and there is just an enormous amount of fireworks going on around us that are not helping our cause," says Cherwin.
He says about a dozen agencies responded, from as far as Connell and Walla Walla and managed to get it under control. Another large fire sprung up shortly after near Ruppert Road and North Demoss Road. As of 11:00 PM approximately 50 Acres burned.
This story is developing.