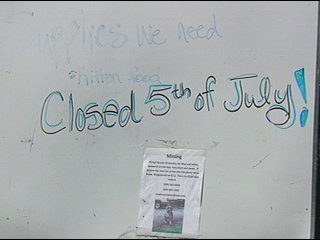 KENNEWICK, Wash.—The 4th of July can be one of the most difficult holidays for dogs. The day after, many people are looking for lost pets or trying to find a stray's home. KNDU learned not all resources are open Tuesday to help lead pets home.
The Tri-Cities Animal Shelter is closed Tuesday. Now, many people in the cities are asking what they can do with stray dogs.
"It's frustrating that they're not open, but I can understand with the holiday being yesterday," says Dora Puzycki, looking for lost dog.
A facility representative says they are honoring Independence Day Tuesday, because Monday is a regular day off. However, one man who found a lost dog in Kennewick says he now has nowhere to take the animal.
"We have things to do, and we have to leave town so we can't take care of him," says Lou Burkholder, found stray dog.
If the dog is found in unincorporated areas of Benton County, you can take the animal to the Benton County Animal Control Shelter. If you find the animal outside of Benton County, you can take the dog to the Tri-Cities Animal Control Shelter Wednesday morning. Until then, make a report with an animal control shelter or Humane Society, and post or check on craigslist.