BREAKING NEWS: Casey Anthony to be FREE next Wednesday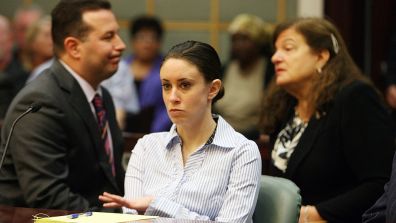 ORLANDO, Fla. (AP) - A court official says Casey Anthony is going to be released from jail next Wednesday following her conviction for lying to authorities who were investigating the death of her 2-year-old daughter, Caylee.
Anthony was sentenced to four years in jail earlier Thursday, but she is receiving credit for the time she has already served as well as good behavior. She has been in jail for nearly three years.
Anthony was acquitted of murder in the death of her child Tuesday.
PREVIOUS COVERAGE:
ORLANDO - Casey Anthony was sentenced to four years in jail on Thursday, two days after she was found guilty of lying to police but found not guilty of murdering her 2-year-old daughter.
Anthony, 25, was found guilty of four counts of lying to investigators and sentenced to a year in prison for each count. She was also fined $1,000 on each count.
Judge Belvin Perry said he would discuss with her lawyers when she could be released given the time she already has served. She could go free in late July or early August.
Earlier, her attorney, Jose Baez, told ABC News he would argue that Anthony should be sentenced to time served — she's been behind bars for nearly three years — and released.
"If you look at the time that she's done, it's quite significant," said Baez.
Given the high emotions surrounding the case, Baez said he's concerned for his client's safety when she is released.
"I am afraid for her," he told ABC's Barbara Walters.
Separately, police told NBC News that Anthony's family has received death threats.
Police were at the Anthony family's home on Wednesday, one day after the verdict, NBC reported. Authorities would not release details about the threats, but George and Cindy Anthony's attorney, Mark Lippman, addressed them on TODAY.
"Some of them are potentially valid; most of them are from people emailing their feelings and just saying, you know, 'I hope you're all dead,'" he said. "If it's coming from Nebraska, I don't consider it a major-level threat, but if it's from somebody who's in Orlando, obviously we have to have more concern."
What happens next?
Authorities in Florida are being mostly quiet about what might take place should Anthony be released for time served. There are obvious complications with her returning to her parents' home, where she lived before she was jailed, given the stinging accusations her attorneys leveled against them during the trial.
"Due to the high-profile nature of this case and intense, emotional interest by the public, appropriate measures will be taken to release the individual into the community in such a manner so as to preserve the safety of the individual and the public," Orange County Corrections Department spokesman Allen Moore said. >>>CLICK HERE TO READ MORE FROM MSNBC