Walla Walla Sweets Get Bellingham in Series Finale, 3-0
Posted:
Updated: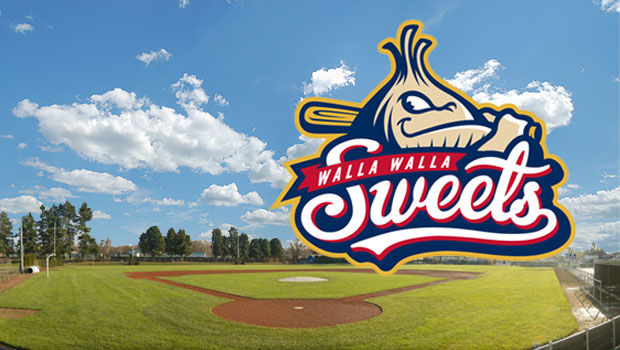 BELLINGHAM, Wash. -- Brett Watson gave the Walla Walla Sweets exactly what they needed on Thursday night. The left-hander gave up six hits over eight shutout innings and the Sweets scraped together three runs in a 3-0 victory over the Bellingham Bells at Joe Martin Field.

Winless on the summer despite throwing well in two of his three starts, Watson was not going to let another game slip through his fingers. He set down the side in order in the first thanks to a diving play from James Campbell at third and set down the first six Bells to start the night.

Walla Walla used that momentum to grab their first lead of the series in the third inning. Kalani Brackenridge picked up the first hit of the night for the Sweets with a sharp-single to center, stole second and scored two batters later on an Andrew Mendenhall single to center. The RBI single extended Mendenhall's hitting streak to ten games.

Unfazed, Bellingham came out swinging in the third. JR Bunda started things with a single and moved to second on a sac bunt. Nine-hitter Kolton Emery then lined a pitch into left for a single and Bunda rounded third and headed for home. Playing left, Scott Gottschling fielded the ball cleanly and delivered a strike to Elliot Stewart at home and he tagged out Bunda to keep the game 1-0.

That play proved important as Gottschling came to bat in the top of the fourth. With Stewart on second, Gottschling ripped a ground ball just inside the bag at third for a run-scoring double. The two runs were all that Watson needed.

Watson worked around a leadoff single in the fourth, getting three-straight fly outs, pitched a 1-2-3 fifth and allowed only two-out baserunners in the sixth and seventh. He finished his night by inducing a ground out to short with a runner on first in the eighth. In all, Watson got 11 fly ball outs on a night when the wind was blowing straight in from center. He handed the ball off to fellow lefty Daniel Jewett and the Truman St. product picked up his first save with a 1-2-3 ninth.

Walla Walla's win snapped the Bells' eight-game win streak and moved the Sweets to within 3.5 games for the final playoff spot in the East Division. Alex Stanford led the Sweets with two hits and four other players collected single hits. Derek Atkinson and Bunda each collected a pair of hits for the Bells. Bellingham starter, Kyle Schepel fell to 1-3 on the summer after allowing two runs on five hits over six innings. He struck out five and walked three. Evan Hudson struck out two over two innings of relief and gave the Sweets their third run when he threw away a ground ball in the eighth. Jack Vander Linden struck out two in a scoreless ninth.

The Sweets continue their nine-game road trip on Friday when they travel to Bremerton to take on the Kitsap Bluejackets in a three-game series. Game one is scheduled for a 6:35 p.m. first pitch and Tim Culligan will get the ball for the Sweets.