Questions answered about Linda Lusk's sentencing
Posted:
Updated: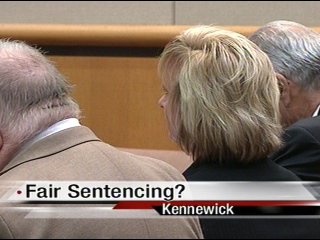 KENNEWICK, Wash. -- Many KNDU viewers had questions and comments after former Prosser Mayor Linda Lusk was sentenced to three months of jail time with work release for third degree child molestation. Many of you wanted more information about work release, sex offender registration, and whether or not there is a double standard for men vs. women found guilty of a sex crime.
Linda Lusk began serving jail time at the Benton County Jail in Kennewick back on May 20, 2011 when she pled guilty to third degree child molestation. Being on work release means she spends her days working at her Prosser boutique and comes to the jail at nights. She has already served 49 days of her sentence.
When asking if this is a fair sentence, the victim's mother, Heidi Frank said she did not want Lusk to get work release "Personally no, but it kept my son off the witness stand and it also proved that he wasn't a liar," says Frank.
Her attorney, Larry Stephenson said this was a fair plea since no parties are completely happy with the outcome.
"Considering Linda Lusk and her back ground, and she was seen by various experts and everybody knew this was somebody who was not going to re-offend, I think this was fair," says Stephenson.
Benton County Prosecutor Andy Miller said the recommendation for sentencing came from studying eight other third degree child molestation cases in Benton County over the last three years. where the offender had a history of only once incident. The offenders studied were also not related to the victims.
Miller says Lusk's sentence was slightly more strict than the norm which usually involves the offenders serving a suspended sentence, man or woman. "The defendant Linda Lusk did not get that. She got the straight up punishment. If somebody has an example of a crime, where a man does the same crime and was charged with child molestation three, and they got a longer sentence, I guess I'd like to see that case because we think our records check was exhaustive," says Miller.
Another stipulation of the plea agreement is something the victim's family was very adamant about, Linda Lusk will have to register as a sex offender for the next ten years.
In her case, there is a protective order prohibiting her from coming within 500 feet of the victim, his home, his school his job.