Villwock Fails to Finish a Heat at Gold Cup
Posted:
Updated: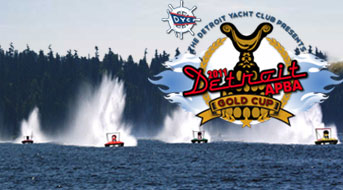 Detroit, MI---
An eventful day at the Gold Cup in Detroit. First, all heats were delayed an hour, as the Coast Guard searched the Detroit River for an alleged dead body. A jet ski was found circling the river with no driver, prompting the search. No body was found.
When the races resumed, Dave Villwock in the U-96 Spirit of Qatar incurred a penalty in Heat 1B. After the penalty, Villwock did not finish the race. However, he bounced back to win Heat 2A and set himself up nicely for tomorrow's final day at the Gold Cup.
In the first heat of the day, J. Michael Kelly won his first heat ever driving his new U-88 boat. Edging out Scott Liddycoat driving the U-7 by less than a half-a-mile-per-hour.
Here are your top Heat finishers from Saturday's action at the Gold Cup:
Heat 1A:
1. U-88, J. Michael Kelly: 142.964 mph
2. U-7, Scott Liddycoat: 142.553 mph
3. U-100, Greg Hopp: 133.650 mph
Heat 1B:
1. U-17, Cal Phipps, 142.115 mph
2. U-21, Brian Perkins, 132.431 mph
3. U-5, Jeff Bernard, 145.050 <penalized 1 lap>
4. U-96, Dave Villwock, DNF
Heat 1C:
1. U-11, JW Myers: 129.822 mph
*** Mark Evans DNF, Ken Muscatel DNS, Mike Webster DNS
Heat 2A:
1. U-96, Dave Villwock: 147.103 mph
2. U-17, Cal Phipps: 140.895 mph
3. U-57, Mark Evans: 130.603 mph
Heat 2B:
1. U-5, Jeff Bernard: 144.833 mph
2. U-88, J. Michael Kelly: 136.836 mph
3. U-11, JW Myers: 127.580 mph
Heat 2C:
1. U-100 Greg Hopp: 125.215 mph
2. U-7, Scott Liddycoat: 142.631 mph <penalized 1 lap>
3. U-21, Brian Perkins: 132.055 mph <penalized 1 lap>
Sunday's Heat Orders to start:
Heat 3A- U-7, U-57, U-21, U-17, U-88, U-22
Heat 3B- U-5, U-11, U-1, U-96, U-100