Man sets himself on fire, burns down home
Posted:
Updated: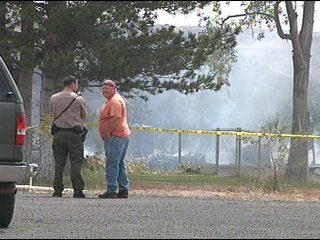 VANTAGE, Wash.-- At around midnight Saturday night Vantage Fire District 4 and Kittitas Valley Fire crews responded to a house fire on Brown Rd. in Vantage.

When crews arrived the house was fully engulfed in flames. Neighbors say it was a terrifying scene.
"[I] got up there and this place was just total flames. The entire building was on fire. The cars were melting down the driveway up there, everything's on fire," said Ronny Lowrie who lives close by.
According to multiple neighbors in the area, the owner of the home was responsible for the blaze.
"It's kind of hearsay but apparently somebody in the family that had the property up there...set himself on fire," said Lowrie.
Other neighbors said similar things, that a man poured gasoline on himself and then lit himself on fire, burning the house down.

Kittitas County Sheriff Under-Chief Clay Myers could not confirm those reports but said that some escaped the flames but another did not.
"It was reported that a woman and children got out of the home. One male individual did not," said Chief Myers.
An investigation by the Sheriff's Dept. and County Fire Marshal is ongoing and streets surrounding the property are blocked off to traffic.
Neighbors in the area who helped put out the fire before it could spread to surrounding properties and homes say that it's a huge blow to the small community.
"The whole community is just in agony over this, it's just so painful," said Lowrie.
Investigators are not releasing the man's name, but we will release updates as they become available.