WSP looks into fatal accident on 395
Posted:
Updated: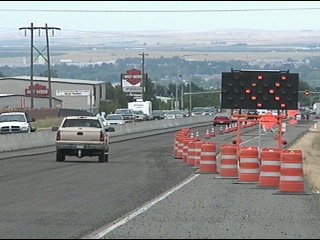 KENNEWICK, Wash. -- The Washington State Patrol is looking into the fatal accident happened around 10:30 PM Saturday on 395 North bound between 19th and 27th Ave.
Washington State Patrol Lt. Roger Wilbur says 51 year old Brian Lacy of Terrebone, Oregon was wearing his reflective gear when a dump truck backed up and struck him
Benton County Coroner, John Hansens says Lacy died from blunt force trauma to the head and upper body. Wilbur says it is typical to do construction work at that hour because there is less traffic congestion at night. He says they were either grinding or removing pavement at the time of the accident, a process that is very noisy.
"A lot of times trucks have a back up indicator on them, that beeps when the trucks reverse, but whether or not the worker could even hear that because of the noise that would be associated with the other machine, it's hard to say," says Wilbur.
Construction has stopped for the next few days to give other workers time off. 48-year-old Thomas Austin was driving the dump truck. So far no charges have been filed. State patrol says this is still an active investigation.
"Hopefully through the investigative process we're able to determine the cause and then provide that information back to that company who hopefully will make some changes in the future to prevent it from happening again," says Wilbur.